The Virginia Budge Award for the Creative and Performing Arts
"Supporting the Arts One Student at a Time"
$500 Award 2024 Application Now Available
*Now Includes SPECIAL NEEDS Application

New: Ercel Eaton Creative Writing $200 Award
Mission Statement
The Virginia Budge Award exists to create, promote, develop, sponsor, sustain, facilitate, and further the Arts within Butler County, Ohio. For the mission of the Committee, the term "Arts" shall be defined and literally construed to include the making or doing of things that have form and beauty, and to encompass all forms of Arts including the Arts of music, painting, sculpture, dance, theater, film, opera, ballet, and any other of the performing Arts requiring and exhibiting an exceptional level of creativity, skill or talent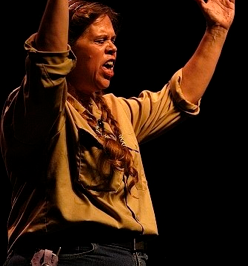 Committee Members
Bridget Ossmann, Founder
Sarah Kimble, C0-Founder
Bekka Eaton, Artistic Director
Josh Kimble
Greg Ossmann
Jordan Eaton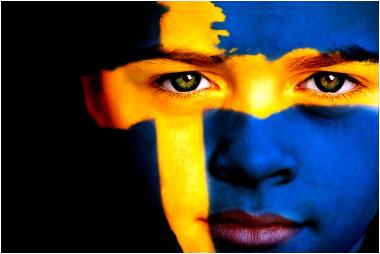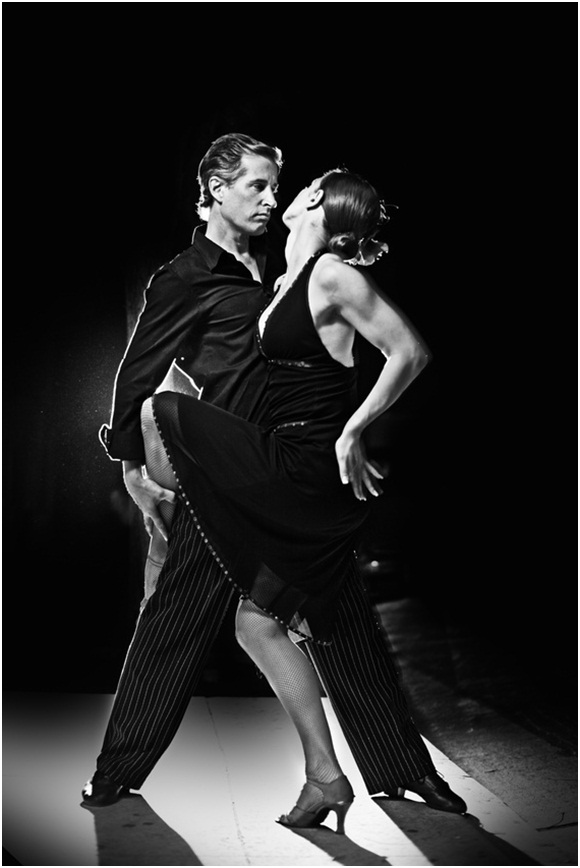 "Supporting the Arts One Student at a Time"
2023 Virginia Budge Award Recipients
Caden McCollum and Willow Haynes
Scroll down to find out more
Caden McCollum - Bass Clarinet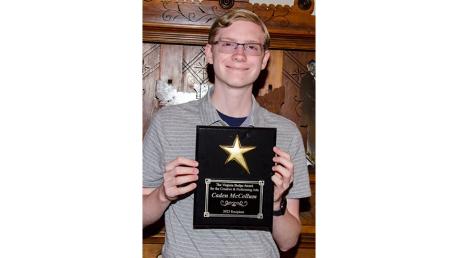 Caden McCollum
Bass Clarinet
Caden McCollum is a senior at Fairfield High School and will be pursuing degrees in both physics and bass clarinet performance at Miami University in the fall. Since beginning to play bass clarinet in 2021, he's been a regular member of the OMEA District XIII Honor Band, alongside being selected as the bass clarinetist in this year's Southwest Regional Orchestra and having the privilege of being the principal chair bass clarinet in the 2023 Ohio All-State Band. After earning his degrees, he hopes to combine both his fields of study into one career, using applied material science and physics to develop the ideal synthetic reed. Outside of the music program, Caden is a varsity member of his school's Academic Team, a peer tutor with the National Honor Society, the valedictorian of the Fairfield class of 2023, and a United States Presidential Scholar nominee for the state of Ohio.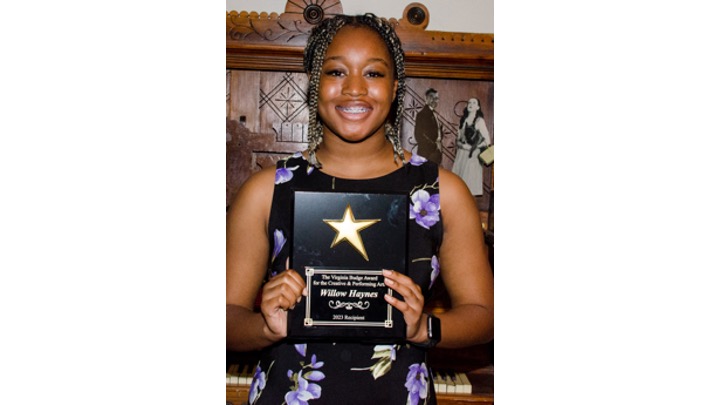 Willow Haynes
Film & Media Productions
Willow Haynes is a 17-year-old senior in high school with a passion for film and media production. She has held several leadership positions in extracurricular activities, such as directing a one-act play, being assistant manager for the Black Student Union showcase, serving as the social media director for the National Honor Society, and mentoring students through the Big Brother Big Sisters program. In her free time, she enjoys volunteering at various food banks, screenwriting, and creating mini films. She is attending the University of Cincinnati's College-Conservatory of Music in the fall to pursue her dream of becoming a filmmaker and creating diverse media content. Ultimately, Willow hopes to start her own media production company.
2022 Virginia Budge Award Recipient

Alena Scott - Flute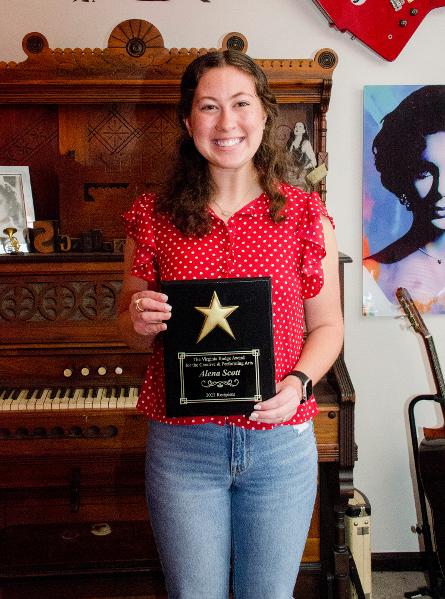 Alena Scott
Flute
A Fairfield High School senior, Alena will be pursuing degrees in both music education and flute performance at the University of North Texas in the fall. Over the last four years, she's been a consistent member of select ensembles within the Greater Cincinnati area, including the Cincinnati Symphony Youth Orchestra, Cincinnati Youth Wind Ensemble and Dayton Philharmonic Youth Orchestra (DPYO). As a member of the DPYO, Alena was selected to serve as a conducting apprentice, an opportunity rarely offered to high school musicians, through which she learned to lead rehearsals and further enhance her score studying skills. Alena hopes to one day pursue a career in ensemble conducting. This winter, she had the privilege of representing Fairfield as the principal flutist of the Ohio All-State Band and member of the Bands of America Honor Band in the Rose Parade. When not performing, Alena enjoys membership in her high schools National Honor Society, Tri-M Music Honor Society, and Prevention Coalition which she serves as vice president, public relations officer, and president, respectively.
2021 Virginia Budge Award Recipient
s
Judson Haynes - Saxophone
Scroll down to find out more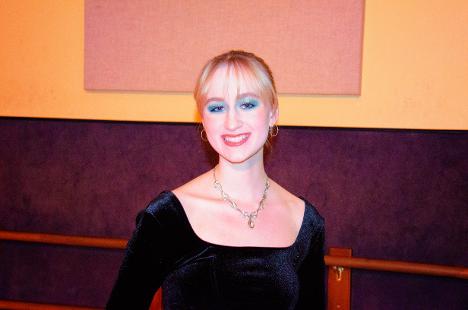 Clare Sherman - Dance
Clare Sherman is 16 years old and is currently a junior at Badin High School. Clare began dance classes at age 3, and has always had a genuine love for the artform. At Miami Valley Ballet Theatre, she has continued to grow as an artist, studying ballet, modern, jazz, and pointe. She is immensely grateful that dance is in her life, as it has helped her learn about herself and is an essential part of the person she is today. After high school, Clare plans to pursue dance as a career. She is excited to see how dance will continue to lead her through life.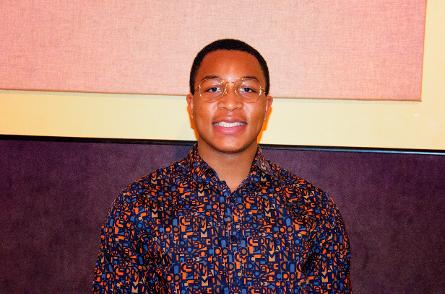 Judson Haynes - Saxophone
Judson Leroy Dean Haynes IV is a second year Music Education major at the University of Cincinnati College-Conservatory of Music. Dean's goals are becoming a great teacher, becoming the secretary of education, and reforming education in his own eyes. Dean is a Darwin T. Turner Scholar at UC, and also the president and founder of the UC Self-Improvement Club. Outside of playing music, Dean enjoys drawing, practicing martial arts, working out, making videos, enjoying anime and manga, and practicing self-improvement.
2019 Virginia Budge Award Recipients
Conner Japikse - Graphic Design
Scroll down to find out more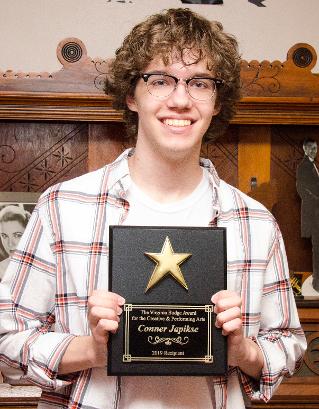 Conner Japikse - Graphic Design
Conner is a May 2019 graduate of the Communication Arts/Graphic Design program at Butler Tech D Russel Lee, where he has been attending school for the past 2 years. In his spare time, Conner loves to do anything that involves creativity. This includes anything from playing guitar and keyboard, to making videos, to honing his graphic design skills. Conner will be attending UC DAAP in the fall to study Communication Design.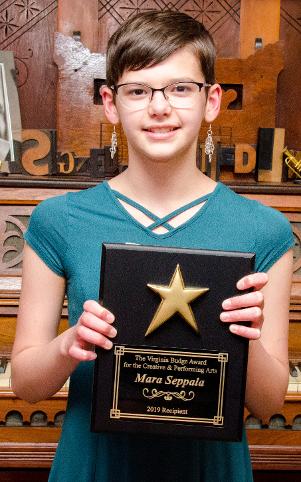 Mara Seppala - Violin
Mara Seppala is a thirteen-year-old violinist attending Fairfield Creekside Middle School. She is the principal violinist of her school's select orchestra. Mara is also a member of the Cincinnati Junior Strings Youth Orchestra and will be traveling on their international tour to Australia to perform in the Sydney Opera House. She hopes to become a conductor of a professional orchestra.
2018 Virginia Budge Award Recipients
Kennedy Baker - Violin
Anna Greco - Vocal
Emma Krusling - Dance
Scroll Down to Find Out More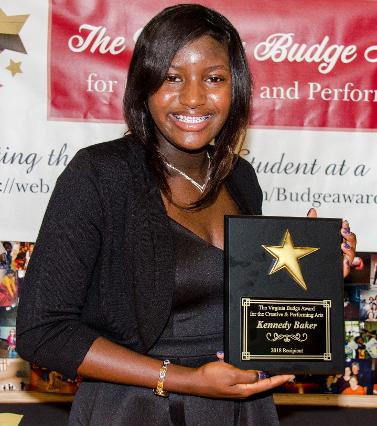 Kennedy Baker - Violinist
Kennedy Baker, 14, attends the Fairfield Creekside Middle School where she has won numerous awards and accomplishments in the art of music. With the violin being her major instrument, Kennedy was the Fairfield City School Tempo Club musician winner for the month of November during the 2017 school year. Kennedy has been selected for the position of concertmaster for the Fairfield Middle School and received the 2018 OMEA Superior rating and the outstanding violin soloist award. Kennedy has played in many recitals and received amazing compliments from competition judges and superior ratings during all of her solos and ensemble performances. Her superior musical talent will lead Kennedy to Emory University upon graduation in 2022, where she will pursue a double major in music and political science. Kennedy credits all of her music teachers, mentors and parents for her true passion for music. Kennedy is an extremely gifted violinist and has a very bright future ahead of her.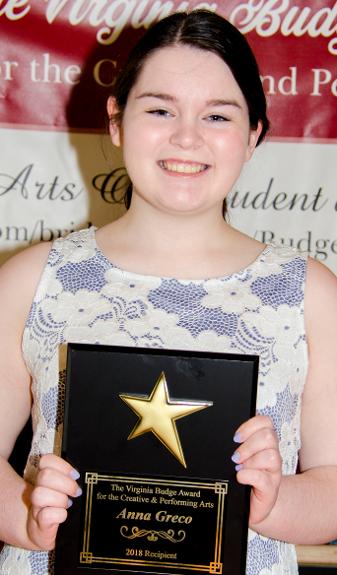 Anna Greco - Vocalist
Anna Greco will graduate this year from Lakota West High School as an Honors Thespian and with French National Honors. Anna has been a Finalist in the Schmidt Youth Vocal Competition, a Semi-Finalist in The Overture Awards Competition, and a Semi-Finalist in the Hal Leonard Vocal Competition. She has been a part of the May Festival Youth Chorus for four years under the direction Dr. James Bagwell. Anna has made all these accomplishments under the tutelage of Melody Wallace. Next year, Anna will be attending Miami University for Vocal Performance under Alison Acord.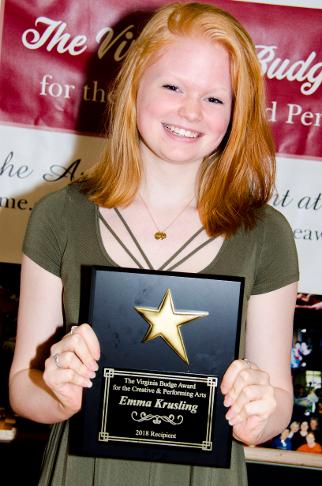 Emma Krusling - Dance
Emma Krusling is seventeen years old and has been dancing since she was 4. She has studied in many forms of dance including ballet, contemporary, modern, jazz, and tap. Most recently, she has been dancing as a trainee with Cincinnati Ballet. Through this program, Emma has had the chance to perform with the ballet in numerous productions. Her favorite role was performing snow and flower corps for Cincinnati Ballet's Nutcracker. Emma hopes to one day become a professional dancer, and would like to thank the Virginia Budge Award Committee for helping her in the process of reaching her goal.
Kyle Hodgkin - Jazz Guitar
Faith Ann Santucci - Music Ed/Flute
Jacob McFarland - Music Composition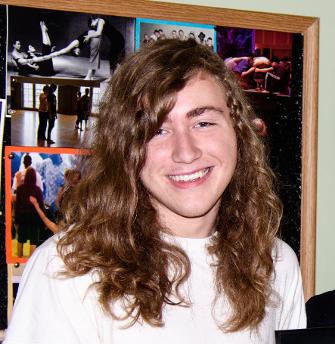 Kyle Hodgkin - Jazz Guitar
Kyle Hodgkin is currently attending Butler Tech School of the Arts. At the age of 16, Hodgkin was awarded Best Instrumental Soloist for 2017. His command of the guitar has lead him to perform as lead guitarist in Jesus Christ Superstar 2016, Hamilton High Rhapsody in Blue Orchestra, 2015, 2016, and 2017 seasons. Hodgkin has also performed as lead guitarist for Mark Joshua – 2016, Dr. J. and the Apostles - 2015 through 2017, and Moniker – 2016 and 2017. Hodgkin released two original songs in which not only did he play lead and rhythm guitar but also bass, organ and vocals in 2017.
Hodgkin plans on pursuing a professional degree in jazz guitar.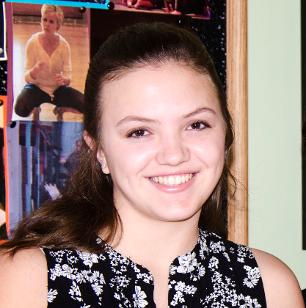 Faith Ann Santucci - Flute
Faith Ann Santucci, 17, attends Homeschool/Lakota West High School where she has won many awards and numerous accomplishments in music. With flute being her major instrument, Santucci was the 2017 Concerto Competion winner. Her superior musical ability led Santucci to the University of North Texas where she will be attending in fall of 2017 for a degree in Music Education. Santucci credits Greg Snyder at Lakota West for her passion for music.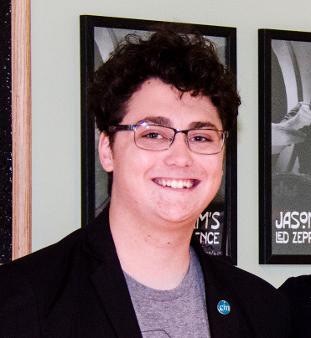 Jacob McFarland - Music Composition
Jacob McFarland received the 2017 OMEA Superior rating in music composition. McFarland attended Hamilton High and has been accepted into the Young Composers Program at the Cleveland Institute of Music in 2017. As a composer, one of the highlights in McFarland's career was meeting Maestro Louis Langree, head director of the Cincinnati Symphony Orchestra. Langree was so impressed with McFarland's work that the Maestro introduced him to a graduate assistant at the Cincinnati Conservatory of Music, Michael Lanci McFarland is presently taking composition lesson from Lanci and an excerpt that McFarland composed will be performed at the Cincinnati Conservatory of Music. McFarland plans on attending the Cleveland Institute of Music seeking a major in music composition.